Calling all Midvale, Utah Caniacs and Post Malone fans! We're pulling out all the stops to make our newest partnership – exclusive to our Midvale location – one unlike any the restaurant industry has ever seen.
Award-winning singer-songwriter, Post Malone is taking over our Midvale, UT Raising Cane's Restaurant from our menu all the way to the exterior of the building! You read that right, a Post Malone Raising Cane's!
A close friend of our Co-CEO and Founder, Todd Graves, (and a self-proclaimed Caniac) Posty personally requested a Raising Cane's be built near his home in Midvale and that he could custom design the location. Going above and beyond the average restaurant partnership, our Midvale Restaurant at 890 Fort Union Blvd recently underwent full-scale renovations including a redesign of our Dining Room, restrooms, building exterior and landscaping – all custom-designed by Post himself.
A classic 1974 Ford F250 welcomes you as a permanent fixture in our parking lot and is featured in one of Post Malone's music videos. The exterior of the building is wrapped in solid pink with Post Malone tattoo imagery and themed door handles, and personal items of Post's are displayed on the Dining Room walls. The restrooms take on a medieval theme that includes a suit of gothic medieval armor.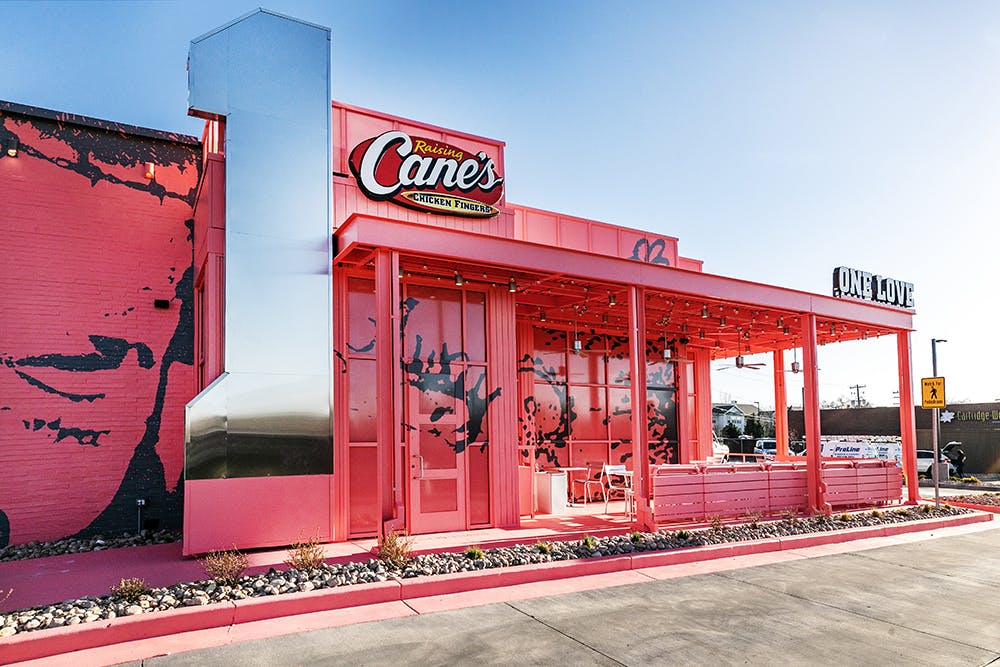 A ping pong track system also runs through the walls of the Restaurant to celebrate Posty's love for pong, and there's even a Post Malone-themed vending machine with exclusive merchandise from the collaboration.
In addition to being the visionary behind our complete Restaurant rehaul, Post Malone is also adding a new menu item exclusive to the Midvale Restaurant – the Posty Way Combo. The combo is inspired by Post's personal Cane's order – four chicken fingers, crinkle-cut fries, two Cane's Sauces, two Texas toasts, extra salt and pepper packets and half unsweet tea/half lemonade in a 32 oz. Collector's Cup.
Come post up at our newly designed Raising Cane's, open beginning Thursday, April 13th!