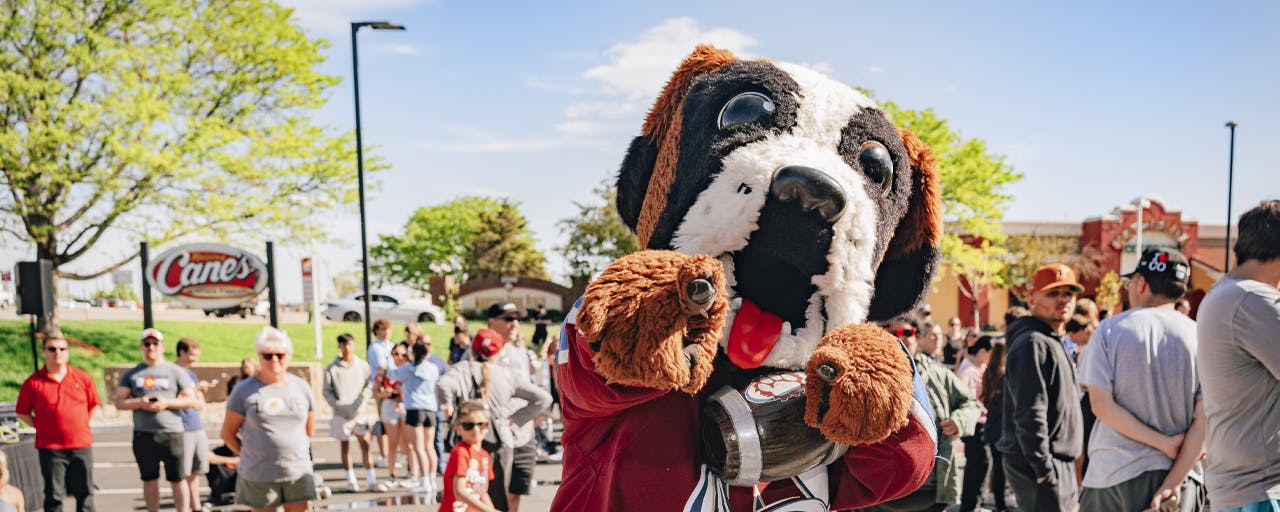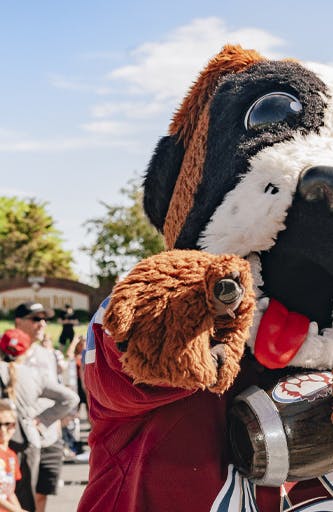 Community Partnerships
Let's work together for our community
Raising Cane's is active in our Communities, supporting over 30,000 local organizations for causes that are close to our hearts. Bringing people together is what we do, whether it's over our 3 Finger Combo, at a fundraiser run or in the classroom. Our focus on Active Community Involvement demonstrates Raising Cane's appreciation for the Customers and Communities that support us. Through our six areas of focus, we've worked hard to support each Community we serve.

Over the past 25 years, we've built a lasting legacy of impact through our support for local community organizations and through larger partnerships like Kidd's Kids and Lemonade Day. Our deeply rooted support of our Community only gets stronger with time, and we look forward to supporting your next Community event or organization need.
Being actively involved in our communities is a part of who we are and dates back to the early days of Cane's. We are serving more than craveable chicken finger meals - we are serving our communities.
Todd Graves, Raising Cane's Founder
Create an account to submit a Community Request today!
Log in from your desktop for the smoothest sign-up experience.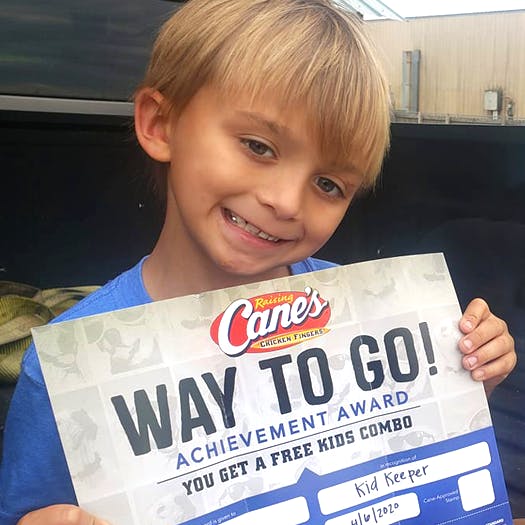 Education
We care about giving students and their Communities a solid foundation to achieve their full potential — that's why supporting education is one of our key pillars.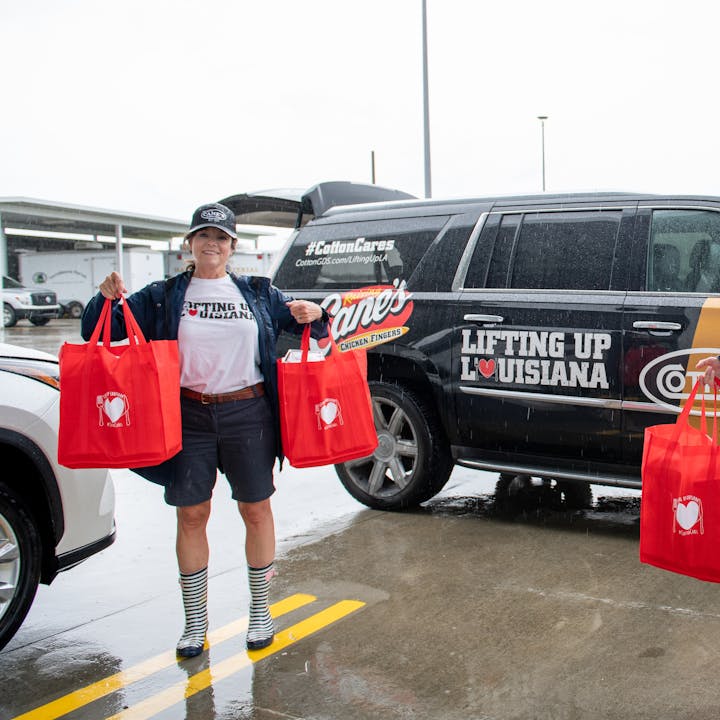 Feeding The Hungry
We're fighting to prevent hunger by helping local food banks and organizations to provide meals and goods to those in need.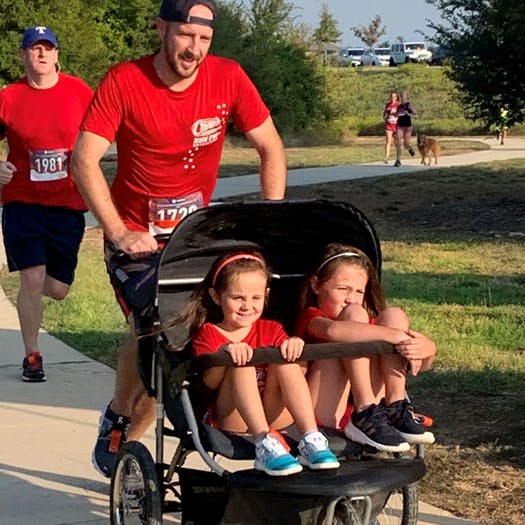 Active Lifestyles
We help our Communities get active. Supporting walking trails, runs and walks, sports teams and physical fitness programs are ways we encourage healthy lifestyles.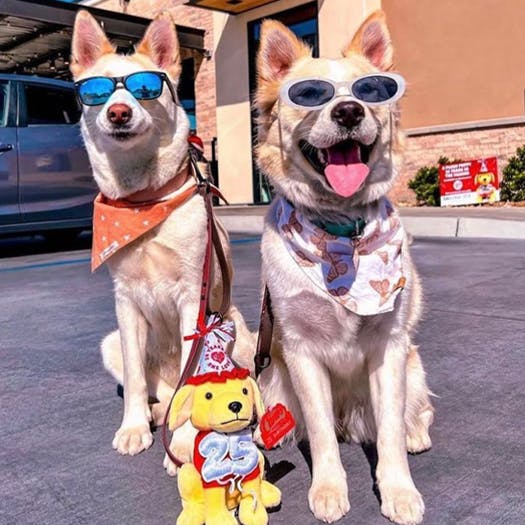 Pet Welfare
Our namesake, Raising Cane, was a yellow Labrador and our inspiration for supporting no-kill rescues and shelters, dog parks and other pet organizations.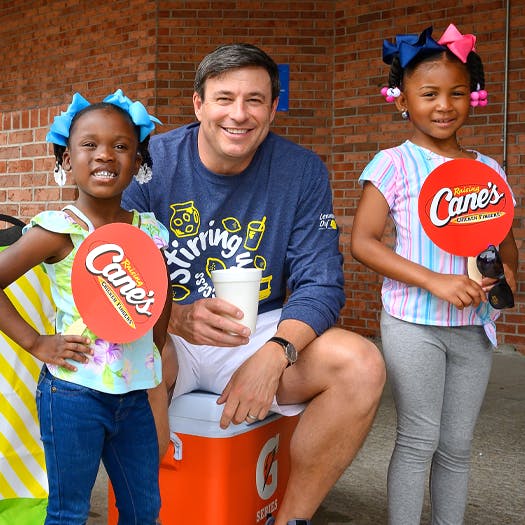 Entrepreneurship
Supporting small businesses and fostering an entrepreneurial spirit has a positive impact on the economic growth and diversity of our Communities — just ask our Founder, Todd Graves!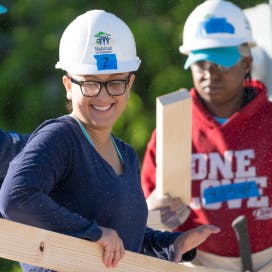 Everything Else
Have a cause you care about that doesn't fit into a category? Get in touch! We support our Communities in many ways.
Community Partnerships FAQs
Skip FAQ Questions
Does Raising Cane's donate food or other items for Community events or sponsor organizations or events?
At Raising Cane's we are actively involved in every community we serve. Requests for financial support, sponsorships, products or gift cards are funded through your local Raising Cane's by submitting a request for support within our Community Request System. You can access the Community Request System by going to the Community Partnerships page on our website and clicking on the button to the "Register or Sign In" button.
How do I submit a request?
You can submit a request by going to our Community Partnerships page and clicking on the "Create an Account" button. Once you have created an account, you can submit your request by clicking on the red "New Community Request" button at the top right corner of your account page. Fill out the required details and provide as much information about your request as you can so that our Crew can better help fulfill your request.
Do I have to create an account in order to submit a request?
Yes, we do require that all Customers create an account in order to submit their request for support. This will allow us to better support your request and help to provide you with regular updates about your request status.
Which events within my Community will Raising Cane's sponsor?
Raising Cane's supports thousands of local and national causes, organizations and events each year. While all requests are considered, the key areas that we focus our Community involvement are:
Enhancing Education
Pet Welfare
Feeding the Hungry
Promoting Active Lifestyles
Business Development Entrepreneurship
We also know that our Communities are all unique and some needs may not fall into the categories above. That is why we have our sixth area of focus, "Everything Else." Submit your request today to get in touch with one of our local Restaurant representatives to discuss how we can support your organization.
How far in advance should I submit my request for support?
The more advance notice that you can give our Crew to plan and support your event the better! While there is not a set rule, we highly recommend submitting your request a minimum of 4 weeks in advance. However, we know that sometimes support might be needed with a quicker turnaround time and we will do our very best to support if we can.
I created an account and am trying to submit a request but am having trouble adding my organization information. What do I need to do?
If this is your first time submitting a request, check the box for "Create new Organization" on the left-hand side of the form and fill in the required information. If you have already submitted a request and are submitting a new request for the same organization you previously submitted one for, you can simply type your organization name within the "Organization Name" field on the left-hand side of the form. You can use your account to submit requests for multiple organizations that you support.
Why is a Restaurant being automatically selected for my request?
We route requests based on the event address you enter, or the organization address you enter if you do not have an event address. We do this to help make sure that your request can be supported by the Restaurant that makes the most sense based on the distance to your event or organization address.
My organization address or event address is not being accepted or recognized within the form. What do I do?
Please make sure you use only non-abbreviated address information within the form when submitting your request. Sometimes it may help to look up your address on Google Maps to check for accuracy. If your address is not recognized, your request may not be routed correctly. For Customer Support, please visit our Contact Us page for information.
How do I check the status of my request?
You can check the status of your request by logging in to your account HERE, using the same login information you created when you set up your account to submit your request. Once in your account, you can select "My Request" in the red side menu bar and choose the request you are wanting to view. You will be able to see the status of your request, as well as the Restaurant it was assigned to in the left-hand information bar.
I have not heard back from the Restaurant. What should I do?
Please give our Restaurants three to five days to respond to your request. If you have not heard back after five days or if you need a response sooner due to request timing, you can send a message in the system directly to the Restaurant or use the listed Restaurant contact information to contact the Restaurant the request was sent to.
The status of my fundraiser says "Pending." What does that mean?
If the status of your request says "Pending," that means your fundraiser request has not been reviewed by the Restaurant Leader of your Restaurant. Please allow for three to five days for the Restaurant Leader to review your request and respond with next steps. 
How do I know if my request has been approved?
The Restaurant Leader or another Raising Cane's representative will reach out and confirm the details of your request. If the request is approved, you will receive a confirmation email stating it has been approved. The status of your request within your account will also change to "Event Scheduled".
I am having issues with creating my account or resetting my password. What should I do?
If you are having issues with creating your account or resetting your password, please reach out to our Customer Support for assistance by visiting our Contact Us page.
Can Raising Cane's help me with a fundraiser for my cause?
Yes! Raising Cane's loves to host fundraisers at our Restaurants to support your organization. You can submit a fundraiser request by creating an account and submitting your request HERE. Please note in your request that you are wanting to hold a fundraiser at Raising Cane's. Also select the Raising Cane's location you would like to host the fundraiser under "event address" in the request form.
What will my organization receive by partnering with Raising Cane's for a fundraiser?
15% of net sales brought in by your fundraiser will be donated directly to your organization. People attending your fundraiser will need to mention that they are at Raising Cane's to support your fundraiser to be counted toward your total donation. A check will be issued 4-6 weeks after your event.
What types of organizations qualify for fundraisers with Raising Cane's?
We partner with all types of non-profit organizations for fundraisers, including schools, parent/teacher organizations, faith-based organizations, pet welfare organizations, youth sports leagues, scout groups, sororities & fraternities, food banks, health improvement organizations (i.e., cancer societies, American Heart Association, etc.) and more.
We do not offer fundraisers for individuals, political activities or for-profit organizations.
What official paperwork do I need to include with my request for a fundraiser at Raising Cane's?
You must include a W-9 with your Community Request.
To obtain a W-9 form, click HERE.
To get your Employer Identification Number or your Taxpayer Identification Number, you will need to contact the leadership of your organization (i.e., School Activities Director, President, etc.).
Additionally, you will be forwarded a Fundraiser Contract after approval of the event, which you must sign and return to Raising Cane's.
When can my organization host an event at Raising Cane's?
Raising Cane's typically schedules fundraisers Sundays through Wednesdays every week. Submit your request and our Crew will work with you to find a date that works best for everyone.
How often can I schedule fundraisers?
There is not a set limitation on the number of fundraisers that may be scheduled in the future. The key is that the event is successful, so schedule one fundraiser at a time and evaluate the success of the event with the Restaurant Leader of your Raising Cane's.
How long will my fundraiser last?
There is no set time limit on fundraisers; however, they are typically scheduled for a 3-4 hour period during the week on any day, Sunday through Wednesday. Specify the time period that works best for your organization on your Community Request, and the Restaurant Leader from your Raising Cane's will discuss timing with you when confirming your request.
Are any support materials provided by Raising Cane's so I can promote my event? How do I get it?
Yes, a digital web page and a flyer will automatically be sent to you upon approval of your fundraiser. The flyer will be in PDF format, so you can print it and distribute as many as you like. Please reach out to your Raising Cane's contact supporting your request if you did not receive the web page link or flyer.
Are there other promotional materials available to help me promote my event?
Yes, there are other materials that you may request from the Restaurant to promote your event. These items require several weeks' advance notice, so if you want to order any of these items, please work with the Restaurant Leader of the Raising Cane's where you are having the event. Additional promotional materials include:
Stickers for elementary schools
Yard signs
Classroom sign-up sheets
How do I cancel my fundraiser?
You may cancel your fundraiser with a minimum of 72 hours' notice prior to the scheduled event by notifying the Restaurant Leader of the location you had your fundraiser Event scheduled for. Once the cancellation is confirmed, your request status will be changed to "Canceled".
When will I receive the proceeds from my fundraiser?
Please allow four to six weeks for processing your fundraiser check (does not include delivery time). If it has been more than eight weeks since your event and you still have not received a check, please contact the Restaurant Leader of the Raising Cane's where you conducted the event.
Will Raising Cane's conduct a fundraiser at my location?
Raising Cane's can help support off-site fundraisers in different ways, like selling lemonade at a school festival and donating a portion back to the school. Please create an account and submit your request for support HERE and a Raising Cane's representative will reach out to discuss ways we can support your request.
I'm trying to create an account but I keep on getting an error message. What should I do?
Confirm that you do not already have an account created. If you created an account for Online Ordering, Raising Cane's App, or Canes Gear site, you should use that same username and password to sign into the Community Request System.  If you continue to have issues with creating your account, please reach out to our Customer Support for assistance by visiting our Contact Us page.
How can I ensure that my fundraiser is a success?
Plan ahead - At least a month in advance so you have enough time to spread the word and get it on as many people's calendars as possible.
Use your pre-designed flyer and web page to get the word out at least 30 days prior to the event. Make sure that your fundraiser followers mention your organization when they visit us on the event date.
Promote your event aggressively - Use your school or organization website and social media, such as Twitter and Facebook, to get the message out to a large audience and hand out as many flyers as possible.
Remember, the more people who come in, the more money your organization receives in return!
View all FAQs
Plush Puppies for Pet Welfare
Every year, we introduce a new, special-edition Cane Plush Puppy, inspired by our namesake. Each of our Restaurants chooses a local pet welfare organization, and all the proceeds of our Plush Puppy Program are donated to that cause. Over the years, we've donated more than $850,000 to a variety of community rescues, dog parks, shelters and more.